Can't Help Falling in Love
The Lovesome: Soulful Jazz, Vintage R&B
This is Kelsey's straight ahead jazz combo, centered on classic, sweet and soulful music from the 40's to the 70's in a timeless, effervescent style. Founded by pianist Alex Levin, the group plays standards from the American Songbook as well as music made famous by Ray Charles, Patsy Cline, Elvis Presley, Etta James, and Frank Sinatra (to name but a few).
Upscale, compact, always tasteful,
The Lovesome 's size is flexible and can be customized to your event.  Whether duo, trio, quartet, or quintet, Kelsey and The Lovesome will add distinction and elegance to your

 

party.
Call 917-974-7761 today to schedule a free phone consultation to find out more about Kelsey and The Lovesome.  We look forward to hearing from you.
Visit www.thelovesome.com for more info, or find us on Facebook:
KJ Duo & Trio: The Littlest Jazz Band
Intimate and lightly swinging, guitarist Tony Romano and I often work as a duo or trio for intimate concerts and smaller venues. Our repertoire includes many standards from the American songbook as well as songs in Spanish and Portuguese, and ranges from the classics to lesser-known gems.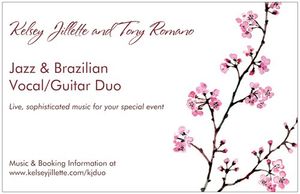 KJ Duo & Trio recordings:
0:00/3:43

0:00/2:26

0:00/2:59

0:00/2:38

0:00/4:06

0:00/5:08

0:00/2:21